Mezzanines are a great way to maximize height in your warehouse and double or triple the surface area. Adding a Mezzanine can be the most economical way to increase warehouse space without the cost of a traditional building expansion.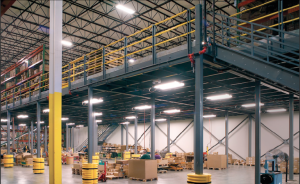 At RackingDIRECT we can design a Mezzanine according to your specific plan and layout for your storage requirements. Mezzanines may be completely disassembled; the parts re-used; and the structure, dimensions, and location easily modified.
Advantages
Installation is quick, clean and easy
Custom designs fit any existing warehouse layout and budget
Compatible with a variety of shelving or storage systems
The versatility of a Mezzanine and its components allow for the addition of storage space, changing rooms, offices, and more to already existing or brand new spaces.
Accessories such as stairs, hand rails, vertical lifts, gates, and security cages can be incorporated to improve safety and facilitate product movement from one level to another. The wide range of sizes, floor types, and construction systems mean that Mezzanines can be adapted to meet any specific need.